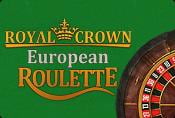 Video online slot has one table for bets, which can be from 1 to 500 coins. It is European roulette. Among winning combinations there are zero, dozen, even/odd, colour, high/low. In total, there are 12 prize positions. The biggest prize is 35 bet multipliers.
Royal Crown Roulette is casino table game from slots developer Novomatic – type of European roulette, where player places bets on different combinations of numbers. They should correspond to the cells on which ball lands after wheel's rotation. It should be noted that Greentube slot has only one reeland, that is why even beginners will cope with the game rules. Find out about roulette in "features and rules of roulette" section of our website.
Royal Crown Roulette - casino table game
Game rules
In these video slot machines and free games user places bets on certain combinations or numbers and starts the spin of wheel, which has 37 cells with numeric denominations from 1 to 36. Each cell has red or black colour, except for zero it is in red colour. When wheel stops player is awarded with credit, if the number on which bet was placed and the number of cell where ball landed are the same.
How to play
At the bottom of the screen there are game pieces with nominal of 1, 5, 10, 50 and 500 coins. Choose desirable bets by clicking on them and put them on certain cells of the game field in free slot machine video game. If you decide to change your decision and place other game pieces then press on Clear and repeat the procedure with new bets. The next round can be played with the previous rate by pressing on Same Bet. Game is started with the help of Spin key after placed bets on certain positions.
The amount of win depends on deposits, that is why try to play with maximally big rates.
Winning combinations
By making bets on the following positions, in case of winning you get credits on the account:
Straight bet (one number is guessed) – 35 rate multipliers.
Split bet (one out of two numbers) – 17 bet multipliers.
Street bet (one out of three) – 11 bet multipliers.
Basket bet (one out of three numbers, including zero) – 11 bet multipliers.
Corner bet (at the corner of four numbers) – 8 rete multipliers.
Four numbers bet (one out of four numbers) – 8 rate multipliers.
Line bet (one out of six numbers: three in each row) – 5 rate multipliers.
Column bet (one out of 12 numbers) – 2 rate multipliers.
Dozen bet (one out of 12 numbers) – 2 bet multipliers.
Red or black (one out of 18 numbers) – 1 rate multiplier.
Even or odd (guessed odd/even of out of 18 numbers) – 1 rate multiplier.
High or low (guessed high/low one out of 18 numbers) – 1 rate multiplier.
As you can see wins in slot games with real money are counted honestly. Those who complicated the gameplay and places bet on one number gets the biggest prize. Plyers who don't tend to take risks and places for example on 18 numbers in even/odd combination gets the smallest credit.
You can get acquainted with other types of table games in casino table games section of our website.
Maximal win
Placing bet on one number you have a chance to get the biggest possible prize, which depends on your deposit. If the same number falls out on the wheel user is awarded with 35 bet multipliers. This combination is obviously the rarest in slot games for free, but those who don't risk can't call themselves experienced players.
Royal Crown Roulette from Greentube offers gamblers to try luck by guessing combinations of numbers and get great credits for them. Place outside and inside bets on the game field and enjoy the multiplied results.
If you feel confident regarding this game, then try playing it on money in [[$whereToPlayLinks]] casinos.
More games from Greentube