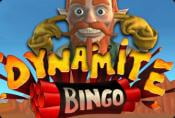 Open and shut at first glance, the gameplay of Dynamite Bingo slot machine game from Novomatic is filled with many nuances which one should necessary understand to play a comfortable game. The first thing that attracts attention is a start button in the lower right corner. There are two of them and they differ by a number of arrows.
Dynamite Bingo slot machine review
Game settings
Button with a triangle launches the standard round, a key with two – the accelerated one. There are no other differences between them. Another way to start the game is to run automatic game. An Autoplay lever is responsible for it. This mode doesn't live up to its name because after each round of free slot game for fun the user must to decide at what stage the game has to be finished. That happens due to one of the additional possibilities about which you can read below.
Each game round presupposes a bet which should be made by player. It can be made when using a virtual account in conventional currency units — credits. Before playing a slot, the user defines the initial amount which he/she wishes to see in the lower left corner, but it may not exceed 500 credits. If early in the game fewer conventional units were contributed, it can be increased to maximum during gameplay on slot machine. The Pay In button (in the upper left corner) is in charge of that action. By the way, to learn more on this type of slots you can go to Bingo page of our site.
Having dealt with a total balance, a player needs to start making a separate rate. It is formed by multiplying two parameters of a slot — a number of playing cards and a bet on one of them. The first factor is regulated by the Cards switch, plus, and minus keys set the valuation from one to four.
Each card has its denomination which is determined by the Bet/Card counter, where is a wide range of numbers (from 0.06 to 25). There is the result section Bet (a bet per round) to the right from the mentioned switch. An important feature of casino slot for fun is the ability to shuffle the numbers on all cards by a button with icon of crossing arrows. This opportunity is absolutely free.
Chains of numbers
The main question of interest is how much does particular chain pay. Information on this question is available directly on the main field above the cards. Pictures with examples of the numbers' arrangement on playing fields are lined up in a row. As mentioned, Dynamite bingo slot has four of them. When card becomes disabled, it turns into the slot logo.
The slot's character stays in the centre of the screen, which within a round rotates a pump that pushes balls to the tube. The numbers that were catch are marked by crosses on playing fields. In a case of a winning combination emergence they will be painted red. The game proposes only 12 such chains. The simplest of them are:
a pyramid of five cells;
a horizontal line from one edge to another;
a square in the centre of a card;
a pyramid of eight numbers;
look-alike of "Y" letter;
stagger of eight cells.
Winnings for these unions vary from 1 to 50. The mentioned combinations of free online slot game are highlighted in blue. More complex chains are painted in orange, for example, a pair of horizontal lines. The payouts for these two are bigger up to 400 bets on one card.
Detailed information on the location of numbers that were dropped on playing fields and other rules of the slot are in the Rules section. Switching between two pages with information is possible by use of More info key. If you adore playing this demo version and would like to try the same for real money go to casinos [[$whereToPlayLinks]].
Supplement
A bonus of mentioned casino slot game, which immediately hits the eye, is a possibility to "buy" extra balls. A valid purchase is to get ten extra numbers. The function is available after every round – a click on the Extra Ball is enough to obtain them. When a player is satisfied with the result, it's enough to use the button Collect key.
The cost of each additional ball is displayed under the tube with figures. The "price" for it is low, therefore, to resort to the bonus is well-taken solution. To understand what number does user need, the cells that can bring credits are highlighted on cards (quantity of credits is indicated in the lower right corner).
A 12 cells combination is a separate free slot's bonus. It allows player to choose the dynamite charges to reveal additional payouts. The bonus round ends if the word "Exit" is hidden under a stick.
Another prize for a combo is a fixed jackpot. A player obtains it for a card, which is completely filled. The value of the prize depends on a single bet and is displayed in the central part of the top console.
More games from Greentube