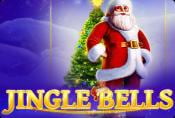 The thematic free fun slot for you issued on holidays quite often look as a gift under a Christmas tree – bright, glittering and you would like to know what is hiding under its coverage. Even when holidays are over these games do not lose their charm. Jingle Bells online slot machine from Red Tiger Gaming is one of these games. Users can immerse into the atmosphere of Christmas any time they want, spin reels, get free spins and pleasant bonuses from Santa.
Free slot machine Jingle Bells online
How to play Jingle Bells slot
Read instructions on how to play slot machines. The Jingle Bells gambling machine is a slot in which the game is played on 5 drums and 20 lines with 13 symbols. During the spins, you'll need to collect three identical symbols in a row and get award for them. Sequences in slots free games are counted from left to right, from first to fifth reel.
Before starting the spins, get acquainted with control panel of the slot. There is only necessary information, which is useful during the game session. In the lower part of the screen you will get an access to the:
Section with changeable parameter – Total Stake. With the help of arrows set the rate size per one spin. The bet can be in the range of 0,2-500 credits. Note that the set amount will be taken away from your account each time your start spinning reels.
Round button with arrows. This key activates slot machines free spins in the manual mode. In other words, after you click on it reels will make single rotation. You can repeat this procedure one more time. This button will be handy in usage if you want to make experiments with rates, change them during the game.
Button with words "Auto" on it. Press on this key and activate series of continuous automatic rotations of reels. Player can set the number of spins from 10 to 100 on his own. While reels are automatically spinning you cannot change the rate value. That is why this mode is great for gamblers, who like playing with fixed rates on casino slots just for fun.
Pays button. Click on it and open additional window, where you can get acquainted with gaming advantages, description of special symbols, table of payouts and positions of pay lines.
As lines of payments in a game are fixed, it is possible to manage bankroll only by changing the rate parameters. Consider that its size affects two game parameters – a remaining balance of the credits on the account and the amount of payments for a combination. The bigger is the rate, the less coins remains on the deposit after each rotation, and, therefore, less rotations can be made for the left funds.
On the other side, the higher is the slots online betting, the bigger payout you will get for the combination. Though you shouldn't delude yourself concerning payments. Not each sequence brings profitable payouts. Some combinations don't pay back credits for spins. Therefore, though from the first sight you win more, in practice some prizes aren't profitable for you, no matter how big they may seem to be.
Symbols and payouts in the game Jingle Bells
Images of the slot Jingle Bells can be divided into three categories. The distinctions between them are obvious, one can tell that the difference is also in value and functionality, not only in its appearance.
Simple images – the figures and letters corresponding a card nominal – symbols that fall out on the reeland of slots free deposit most frequently. The smallest chain of these symbols gives player award in x5-x20 bets on the line, depending on the card nominal.
Valuable symbols– Christmas attributes. Garlands, lollipops-sticks, stars and Christmas tree decorations. Such pictures fall out much less often. Though even the shortest combinations bring payments in the amount of x25-x80 rates on the line. Bells are capable to form sequences even of two images. Such sequence will bring payment in the amount of two rates.
Special pictures – images, on a red background, performing additional functions and bringing benefits:
Wild symbols – picture with present box and words "Wild" on it. When it falls out on any of five reels, it forms combination and replaces symbols in other chains, increasing a chance to get a payout for slots casino free spins.
Scatter – bag with presents with words "Free Spins" on it. When it falls out in any of three cells on the reeland, it starts the prize game – series of free spins.
Bonus symbol – sledges with "Bonus" inscription on them. If you see this character in three positions on the screen, you will get instant prize in the amount of x800 bets on line.
Prize round
When three scatters fall out on the reeland, bonus game with free spins starts. The number of free of charge rotations is set in a random way. During this game round, gambler doesn't use his credits. In this way, he can get prizes for bonus chains on video slot online and replenish his account without wasting a cent. In the bonus round game is played according to the last set bet. If you want to get more information on free spin bonuses, visit the relevant section of the site.
Features of a game
In the Jingle Bells gambling machine, any spin can activate game piece – a gift from Santa. You can notice the start of this feature when screen becomes darker during the spins. Santa appears in the left part of the screen and with stealthy tread approaches the Christmas tree to leave the present. Player can receive such bonuses:
An additional wild symbol on the screen of casino slot machines games at the end of rotation;
Huge wild, 3х3 game cells in size;
Transformation of drums into "advantageous wheels" – all symbols which fall out on the game field – valuable symbols, none of card characters;
The Christmas tree – multiplies payment for the fallen out combination by 20 times.
Using all game advantages and having an opportunity to spin wheels for free, the user has every chance to replenish game balance with prize credits and simply have a great time, observing a game process.Learn how to download your favourite slots on your gadget now!
Does the description of this slot machine sound interesting? Try your luck playing this slot on [[$whereToPlayLinks]]
Game Specs
Freespins

Yes (20)

Active bonus

Yes

Automatic bonus

Yes
Casinos with Jingle Bells
More games from Red Tiger Gaming