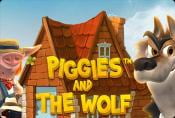 Piggies and the Wolf casino slot machine game from Playtech developer is distinctive by its quick wins, they occur every one-two spins.
Free slot machine game is equipped with 5 reels, 50 active lines and has original animation. The game is devoted to the Wolf's chasing for piglets, during which it sneaks, keeps watch over and destroys their houses. Your task is to help the Wolf break piglets' houses. The faster you make this happen, the greater winning you will get.
Piggies and the Wolf slot review
Game settings
Current rates: the rate on a line and total bet. When you install the first one, the second changes automatically. So, if you set a bet on a line at its minimal value of 1 credit, the summary rate will be 50 credits. If you set it at the maximum level of 100 credits, the total bet will be 5000 credit.
The manufacturers have provided three modes of drum rotations: simple spins, auto mode and turbo mode rotation.
If you want to launch spins independently, just press from time to time the Start button. To set automatic rotations, click on the Auto or Turbo buttons. You should choose the number of spins. There are such options as: 10, 50, 99 rotations. Also, you can implement constant rotations until the winning combination falls.
Game combinations
Piggies and the Wolf free slot machine game online has 11 simple images. The most winning are next symbols:
Smiling pig;
Brown house;
Pig with red shawl;
Green house;
Pig with a green beret;
Lodge with tent.
When combinations with smiling pig or brown houses fall, you can get:
1,000 coins for 5 images;
50 coins for 4 pics;
25 coins for 3 pictures.
If images of pigs with red shawl or green houses appear, you will receive:
400 coins for 5 icons;
40 coins for 4 pics;
20 coins for 3 images.
Pig with a green cap and lodges with awnings will bring:
250 coins for 5 icons;
30 coins for 4 pics;
15 coins for 3 pictures.
If trifling combinations of letters and figures appear on the drums, you can gain from 5 to 10 coins minimally or 50-100 coins maximally.
In addition to a very good wins, the game has the factors too. The more images combination contains, the higher factor is. For example, if it includes three pictures, the won amount will be multiplied by 3. If four or five images are there, the multiplication is performed by 4 or 5 times respectively.
Special images
Piggies and the Wolf free slot machine with free spins and bonus has not only ordinary symbols but special ones too. They increase the wins by several times. That are Wild symbol, Scatter symbol and Bonus.
The main culprit of all outrages – Wolf – is a wild symbol. When it appears on the first, third or fifth reels, it influences all the ordinary images. But this image is the most active on the fifth reel. When it falls there, it immediately extends to the entire drum. The whole figure of grey wolf on the motorcycle comes. It stops in front of the drums and begins to blow. Heavy wind rises and all the images fly from their places. Of course, they come back, but in a different order and in other positions.
Then the Wolf leaves the screen and you count wins from new combinations. Old prizes that you have gained before are added to the new ones.
Restaurant shingle with the "Piggies and the Wolf" inscription is a Scatter symbol. It becomes active only in the first, third and fifth reels. When three and more images fall, you get free spins. 3 is a factor of the mini-game. With luck, it is possible sometimes to win up to 15 free games. If you feel confident regarding this slot game, then try playing it on money in [[$whereToPlayLinks]] casinos.
Bonus game
Slot machine free game has another special image – the Bonus symbol. It is a word "Bonus" with a tree on the background. This icon is active only on the first, third and fifth reels.
When three and more bonuses fall, you get an option to play the bonus game. You should help the wolf to blow away the piglets' houses. To do it, you must select the things, which support the organization of air jet. Each of them brings bonus points.
When your efforts shared with the Wolf's ones manage to demolish the house, these points are doubled. But if the goal is not reached and the house is unharmed, you get only bonuses from things. Learn more about Bonuses of slot machines in the special section of our site.
Game Specs
Scatter Symbol

Yes

Freespins

Yes (15)

Automatic bonus

Yes