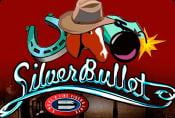 Simple design and graphic, nine wagering lines, two special symbols and lotto game – all those features you can find in Silver Bullet slot machine by PlayTech. It involves few settings, which are actually plain ones and nice interface without any excessive animation. In addition, it features the separate lottery that awards with a real honeypot with the seed 10000 that is multiplied by jackpot stake.
Silver Bullet slot machine review
Gaming settings and general rules
The gaming process is regulated with two main buttons:
Bet One – activating the wagering lines up to the ultimate quantity: 9 strips
Bet – sets the wagering amount per one line in ranges 0.01 – 5 pounds per one line.
The total stake (kept back amount from the active balance with each spin) is calculated with the simple equation: line stake increased by amount of the activated slots lines. The general wager is displayed on the Bet screen. For choosing all lines and rotating the reels once operate with Bet Max option. For example, you have selected 2 pounds as wager per line. However, have not set the amount of lines yet. If you press on Bet Max, you will activate those nine strips at once and spin the wheel.
Silver Bullet slot can be played only manually. The rotation is triggered each time with Spin button.
As about crediting pays and calculating them, as well as assembling icons in a right way, this slot has developed its own rules:
The winning events in slots online new occur only on the wagering lines turned on before a spin.
The pays are credited due to the table of pays and are multiplied by stake per line.
Only Scatter increases the general bet as well as do not have to occur on any certain line, just lie consecutively.
This slot pay both ways with the exception for five of a kind – it pays just once.
It is better to explain on the example. We triggered the slot with one-pound bet for strip with all activated lines. The spin result was:
Three of a kind with horses from the right reel – 5 online slots gaming credits
Two sevens from the left (twice) – 2 gaming credits x2 = 4 gaming credits
Two whiskey bottles from the right (twice) – 2 gaming credits x2 = 4 gaming credits
Two bombs from the left – 3 gaming credits
Moreover, chains with horses and whiskey involved the Sherriff Badge that multiplied wins with it. Thus, the amount of prize is 10 pounds + 4 pounds + 8 pounds + 3 pounds = 25 pounds.
Symbols and its coefficients
The following Wild West attributes are rotating on its five columns: horse, dollars, horseshoe, pipe, wheel, hat, whiskey, sevens, bomb and wood. As you have noticed, the Sherriff badge is the special slot machines pictures and acts like wild with x2 multiplier. Another picture with features is Colt. It pays the total stake multiplier accordingly to the following table:
2 Colts – increase the general stake just once 
3 Colts – multiply it 5 times
4 Colts – 10 times
5 Colts – 100 times
The winning events created with ordinary symbols are paid accordingly to their own schemes shown in the Paytable area. Press on its button to reveal all rewards. Note, that simple pictures multiply only line stake. If the winning chain is completed with Wild, its outcome is increased by two as we have already illustrated.
Honeypot feature – buy your lottery ticket
Dollar Ball is the side slot games new launched in Silver Bullet slot by players making the real money wagers. It is designed as mini-lotto – just 49 balls are involved to the feature. The activation process is simple:
Press on 'Enable'.
Select the five balls manually or pressing on the 'Random Pick' choose any five numbers.
With 'Activate' button prove the choice and begin the lottery.
You can break it anytime with 'Disable' option. Making the spin you reveal five numbers and if they are the same as you have chosen, you get the pays due to the game plan for the Dollar Ball Jackpot:
1 matching ball – multiplies the jackpot slots wager once
2 matching balls – increases the Reward bet twice
3 matching balls – 25 times
4 matching balls – 1% from the Jackpot
5 matching balls – Jackpot
Each spin with the Dollar Ball game has the defined jackpot stake. It contributes 10% to the Jackpot sum involving the seed – 10000, which is increased by amount of money wagers placed in this game counted accordingly to the mentioned percent.
How to trick the slot
The professional gambling does not involve any secret mechanisms trying to cheat the slot in land-based casinos, or any other tricks with online games like altering wagers, waiting between spins and so far. The professional slot games tips are built on other foundations that are:
Responsibility
Time and money management
Perfect knowledges about the game and its essence.
Such a background gives you the detailed impression about game, its features and amenities, as well as pre-define before you press on 'Spin' how much you can spend on your hobby. Slots are addictive. And it is not a secret at all, or taboo-theme. Considering all risks and not only financial ones, start this adventurous gaming. That is why we offer you to follow those 'tricks' helping you to enjoy your time spent in online casinos. Also, you can try to make your own game plan – read the slots Strategy section for this.
Does the description of this slot machine sound interesting? Try your luck playing this slot on [[$whereToPlayLinks]]